New 2021 Edition
Dinner For Two Dining® Book
is good through December 30, 2021.
Only $29.95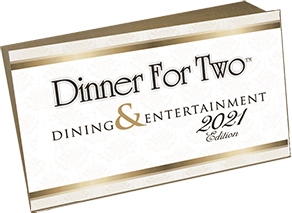 Click for ordering information!
Also available at choice
retail locations
.
Ordering
43rd Anniversary Edition
The
2020 Edition Dinner For Two Dining® Book
features over
$1,000
in
FREE
dining and entertainment. Buy 1 get 1 FREE dinners, luncheons, dinner theaters, dinner cruises and more.
It's easy! Just bring your
Dinner For Two Book®
with you when you dine at any of the
participating establishments
, and start saving!
Major credit cards accepted.